MD PhD Asen Velickov
MD PhD Asen Veličkov was born in Pirot, Serbia, on 07.07.1983. He was enrolled at the Faculty of Medicine in Niš in 2002 and during his studies he was professionally trained in the field of Surgery during the summer internship abroad, in Romania 2007 and in Germany 2008. He completed his medical studies in Nis in 2009 as a scholarship holder of the Foundation for the Development of Scientific and Artistic Youth with an average score of 9.81. In 2009 he started his academic doctoral studies at the Faculty of Medicine in Niš in the field of Molecular Medicine. As a fellow of the Ministry of Science and Technology Development, Asen Veličkov focuses on the field of plastic surgery and pathology. In June 2011 he started working as a clinical doctor – a volunteer at the Clinic for Plastic and Reconstructive Surgery of the Clinical Center Nis. Asen Veličkov received his Ph.D. in November 2018 with the dissertation thesis titled "Prognostic significance of nuclear morphometry and immunohistochemical parameters in skin melanoma". He is the author of several papers in the field of medicine.
His specialization in Orthopedics and Traumatology Surgery at the Clinic for Orthopedics and Traumatology Surgery at the II Surgical Clinic, Coburg Clinic in Bayern, Germany begins in July 2014. Currently, he is a resident physician in Orthopedics and Traumasurgery at the Department for Traumasurgery, orthopedic surgery, handsurgery and pediatric orthopedics in Sana Klinikum, Hof, Germany.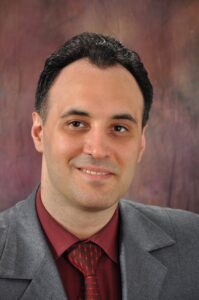 MD Milan Rancic
Milan Rancic, MD graduated from Faculty of Medicine in Nis in 2010. During his undergraduate studies, he was a scholarship holder of a Municipality of Nis Talents Foundation, Serbian Business Club "Privrednik", as well as a holder of "Eurobank EFG Diploma" as one of the top 1000 students of higher education in Serbia. While in medical school he served as a Teaching Assistant in the Department of Pathology, where he began to pursue scientific work. He continued his research in Poland and the Netherlands and won awards at 3 national and 5 international medical scientific conferences for students and young doctors, including "Research Award" at the 18th European Students' Conference in Berlin in 2007. He was recognized with three awards for his scientific work from the Faculty of Medicine in Nis, and received an "Award for Scientific Work" from the Serbian Medical Society in 2007.
Dr. Rancic is a great devotee of non-formal education through the Massive Open Online Courses (MOOCs), with an interest mainly in the fields of logic, logical fallacies, theory of argumentation, epistemology, scientific work theory and methodology, ethics, behavioral economics, cognitive biases and methodology of evidence-based medicine.
Currently he works as a Postdoctoral Research Fellow at Brigham and Women's Hospital in Boston, Massachusetts and is affiliated with Harvard Medical School.